Training Tomorrow's Army Leaders
The Overview of Army ROTC provides students and their families information on our financial incentives, the time commitment after college, academics, job selection, and more.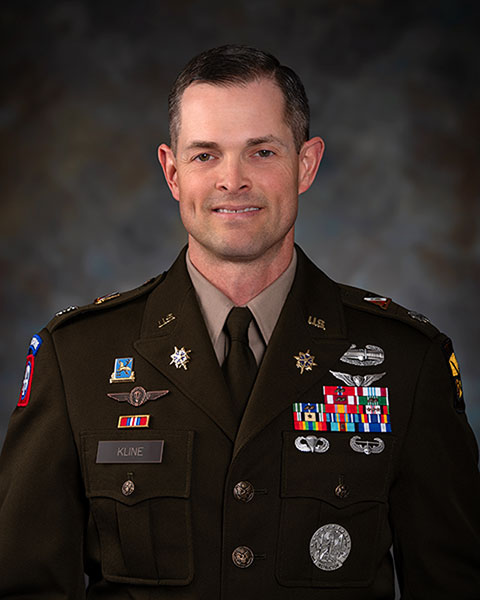 Lieutenant Colonel Kraig Kline, Professor of Military Science
Army ROTC is Phase I of Officers' training and produces over 70% of the required officers each year for the U.S. Army, whether it be in the Regular Army (active duty), Army National Guard or Army Reserve. Army ROTC, along with West Point Military Academy, Officer Candidate School and Direct Commission, are the only ways to become and officer. Students can take our classes and train with us on over 1,100 public and private universities nationwide for the first two years with no commitment to the Army. This is our biggest selling point!
The officers in the military are the managers, planners, behind-the-scenes Soldiers. While they lead from the front they are the ones who dig down several layers to cover every detail and to uncover any foreseeable problems. Officers are commissioned by the President to give orders to our enlisted Soldiers (Privates, Specialists, Sergeants). The biggest difference between our officers and enlisted Soldiers is that the officers are responsible for every that happens and fails to happen.
During your first two years of classes and training we are asking our students to consider a lifestyle that allows them the privilege to be responsible for our Soldiers and their families, as well as to carry this burden of responsibility. The brand new Second Lieutenant fresh out of college out ranks 75% of the military because of the responsibility they carry on their shoulders. -Can you see yourself going down this path?
Basic Training is not required of a future officer. With ROTC being Phase I of their training, they will complete Phases II and III after college and this is comparable to Basic Training and Advanced Individual Training. Enlisted Soldiers in the Army National Guard and Army Reserve are welcome to be a part of our program as they work towards becoming an officer.
Program
We have cadets in over 40 majors this semester ranging from Criminal Justice Sciences to Biological Sciences to Engineering to Athletic Training. Some of our Cadets work, some are enlisted in the Army National Guard or Army Reserve, most are not sure if the Army is the right path for them and a few want to go to medical school after college.
The Department of Military Science houses the required academics for Army ROTC. There are a total of 21 credit hours required;18 credit hours come from the Military Science classes taken each semester and the remaining 3 credit hours come from the History Department for the mandatory Military History class. *JROTC and basic training can waive up to 6 credit hours of Military Science classes.
In addition to the Military Science classes, physical training is conducted three times a week (Monday/Wednesday/Friday) from 0600-0730 and our Leadership Labs are from 0600-0800 on Thursdays. *Leadership Labs are not required of students in the Military Science 101 and 102 classes unless receiving a financial incentive.
Graduate students may also participate in the program by attending an approved Cadet Command training course or military basic training before entering the program.
We do not have an application per se to be in ROTC. Initially there are only two steps to be in ROTC; get accepted by the university and then register for the Military Science class. After that, our application is more so done over time through medical exams, paperwork, assessment, etc.
Campus Visits
We encourage future Redbirds to visit campus to learn more about what the university has to offer and to see if becoming a member of the Redbird Battalion is the right path for you. There are a couple different ways to visit campus; Open Houses, Transfer Days, official tours from the Office of Admissions and unofficial tours from our department. Once it has been determined which is the best path then schedule a visit.
Prior Service, Army National Guard and Army Reserve Soldiers
Our program is also open to prior service military veterans as well as Soldiers currently serving the National Guard and Reserve forces. Please see the links below for how you can join ROTC.
Simultaneous Membership Program
Nursing Students
The ROTC Program is also looking for highly skilled nursing students that are interested in serving as an Army Nurse. Please see the links below for information about the Nursing Programs at Illinois State University, Illinois Wesleyan University and Bradley University. For more information about Army ROTC nursing students please click here.
Illinois State University Mennonite School of Nursing
Schedule
Students take a Military Science course each semester (freshman through senior year) and participate in a weekly leadership laboratory (sophomore through senior year). The summer between junior and senior years, Cadets attend Advance Camp which is part of the Cadet Summer Training Opportunities. This is also the time our nursing students attend the Nurses Summer Training Program.
Upon successful completion of the Army ROTC program and receipt of a Bachelor's or Master's Degree, students receive a commission as an Army Officer in the rank of Second Lieutenant (2LT). Newly appointed 2LTs will serve on Active Duty, in the Army National Guard, or the Army Reserve.
Donations to the RedBird Battalion
Please consider donating money towards the various events our Cadets take part in (e.g. Army 10-Miler, Polar Plunge, Color Guard missions, Ranger Challenge, Ranger Buddy, etc.). Donations will be used for updating equipment, team shirts/hoodies, food or if you having something specific you'd like to donate towards. In addition to supporting our Cadets, you will be receive a brick to be placed in the Colonel Dirk Spanton Memorial Brick walk located in the front of our building.
Explore Training Tomorrow's Army Leaders